The Story of Le Cinquieme Essai
On October 28, 2001 Le Cinquieme Essai, a chestnut colt bred and owned by William J. Scott made his debut at the historic Fort Erie Race Track. While he didn't win that day, he found himself in the winner's circle in his third career start.
Le Cinquieme Essai, meaning 'fifth try' in English is a name not to be minced nor forgotten. Neither is his family lineage. A son of the Irish stallion Fastness, the colt's dam Words of Royalty is from the sire Regal Classic, the 1988 Prince of Wales winner. In his fifth start, the colt lived up to his name and filled the family boots by capturing the 2002 Prince of Wales Stakes with Brian Bochinski aboard.
His trainer Paul Nielsen recalls that day with delight. "They had a great crowd that year and I think it helped that he was a local horse. I always remember when he won and I went down to collect the horse, the crowd just went wild. As Daryl Wells Jr. said, 'it was one for the home team.' - it was so special."
Le Cinquieme Essai went on to race at Woodbine Racetrack for the remainder of the season and into the next summer. The colt took home top honours as the 2002 Sovereign Award for champion 3-year-old colt.
In September 2003 Le Cinquieme Essai won the Puss N Boots with Neil Poznansky aboard. The colt went on to win the 2004 International Turf Cup Stakes at Fort Erie before securing his first graded stakes the following season in the Gr.3 Connaught Cup stakes at Woodbine. Not too long after, the graded stakes champ returned to the Fort to claim a stellar victory in the 2005 Daryl Wells Sr. Memorial Stakes with veteran jockey Steven Bahen.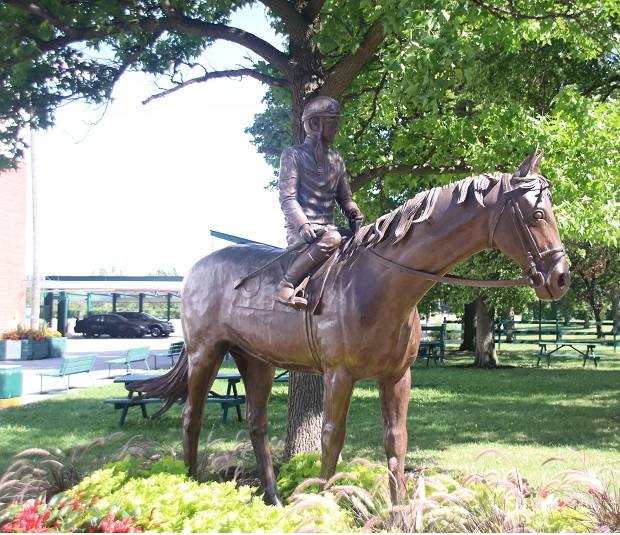 "He loved to run and as he got older he just got more competitive and he matured into a real professional racehorse. You'd take him over there in his later days and his game face was on and you knew he was going to show up," said Nielsen.
Nielsen's wife, Karen Ross, the assistant clerk of scales at Fort Erie Race Track also has fond memories of the gritty racehorse. "He was a great horse. Not only in the Prince of Wales. He went onto have a long illustrious career. He was a champion three-year-old and a top turf horse in Canada. Gutsy, always tried, very professional, very sound horse and he was one of the family," said Ross, who will be the drawmaster for this year's Prince of Wales post-position draw scheduled for tomorrow afternoon.
A horse who always tried, the chestnut colt remained competitive into his later years, placing in several graded Woodbine stakes including runner-up finishes in the 2006 Connaught Cup, the Gr. 2. Breeders' Cup as well as a third-place finish in the Gr. 1 Atto Mile (Ricoh Woodbine Mile). Le Cinquieme Essai also secured back-to-back victories in the 2006 and 2007 Gr.2 Play the King Stakes at Woodbine. In September 2008, at the classy age of 9, he retired with earnings over $1 million.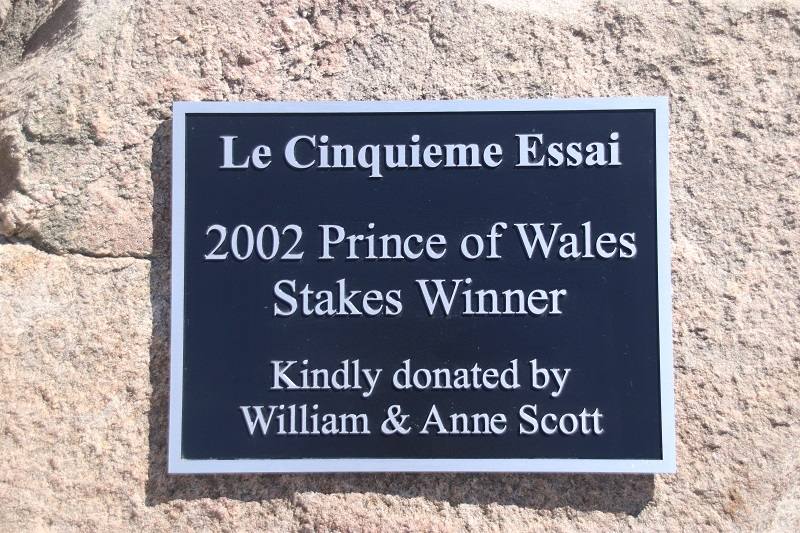 A quintessential champ in Canadian thoroughbred racing, the statue of Le Cinquieme Essai and jockey Steven Bahen was generously donated to Fort Erie Race Track by the horse's owner, William and Anne Scott. Designed by Don Begg, the statue will be on display next to the walking ring for all to see.
Le Cinquieme Essai also has a stakes race named is honour, scheduled to be run on Tuesday, September 14.