Striking while the iron is hot
Ironstone looking for the Winner's Circle in Fort Erie's Prince of Wales Stakes
"This Prince of Wales is not going to be a walkover. No race is ever a walkover. But I feel like he might get out there and relax a little bit more than how he did in the Plate, and we hope that we can go all the way."
Striking while the iron is hot, trainer Willie Armata believes Ironstone has a strong chance of clinching the second jewel of the OLG Canadian Triple Crown (CTC), the Prince of Wales stakes, on Tuesday afternoon.
Ironstone is one of seven horses attempting to capture the 87th running of the historic stakes race at Fort Erie Race Track. The grey almost black colt, with speckles of silver through his body and tail, is coming into the race off an impressive fourth-place finish in last month's Queen's Plate.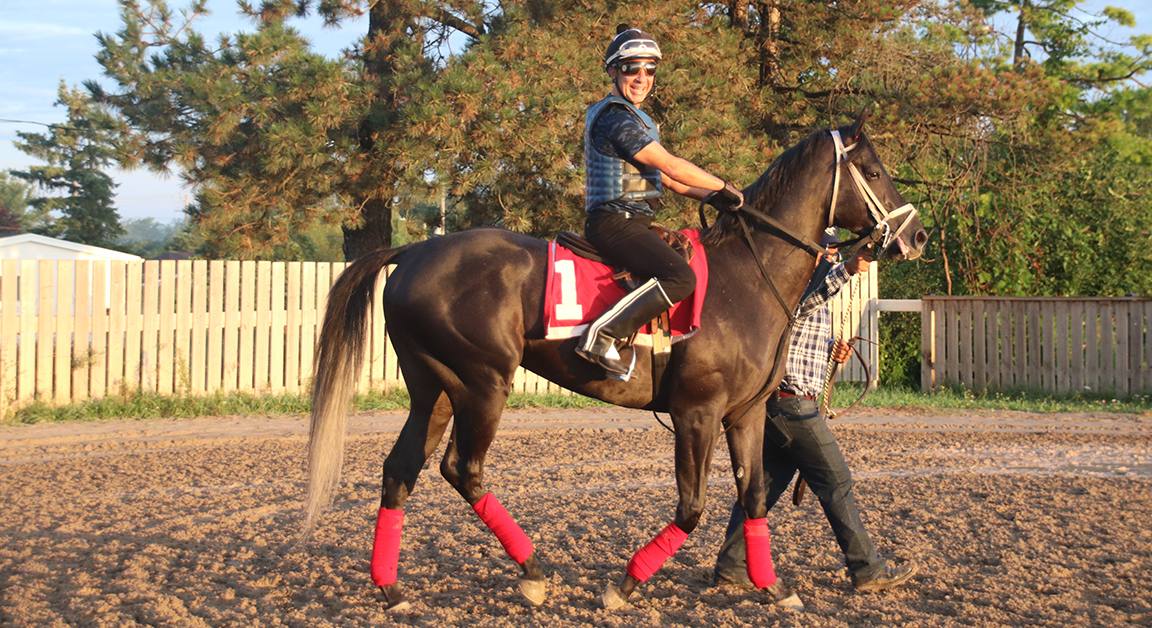 "I was really happy with the way he ran in the Plate. It might have been a tad too far for him but going forward I think that the Prince of Wales will be a lot better for him because it's a little bit shorter. I find that the speed carries a little bit more on the dirt than it does on the tapeta track," said Armata.
The Queen's Plate, the first jewel of the CTC, is run over Woodbine racetrack's tapeta course going a mile and a quarter (10 furlongs). The second jewel, The Prince of Wales, is contested over Fort Erie's dirt track, going a mile and three sixteenths (9.5 furlongs). The third jewel, the Breeders' Stakes, is run on Woodbine's turf course going a mile and a half (12 furlongs). The CTC series is restricted to three-year-old thoroughbreds foaled in Canada.
Aside from a change in distance in the second leg, Armata also notes the change in competition.
"Don't forget to add that Kevin (Attard) is not coming to the Prince of Wales, so it opens up the race a little bit more for us. So we have a good chance."
Kevin Attard trained this year's Queen's Plate winner, Moira. The filly's connections have opted to skip the second leg, in effect leaving a competitive field of seven to duke out their grit in the $400,000 stakes races. The notable Canadian stakes race has been run at the Thorncliffe Park as well as Woodbine. Since 1959, the race has been held at Fort Erie and has been the premier event at the border oval for over six decades.
In past years, notable champion racehorses have captured the Prince of Wales, including Izvestia, Dance Smartly, Le Cinquieme Essai, Wando, Mighty Heart – just to name a tiny sliver in the history books. In the Prince of Wales dining room, the nameplates of previous winners decorate the walls like a landscape of legends. At one point in time, just for a few minutes, each of those horses graced the border oval with their presence and rained down their unique version of glory along the hardy dirt track.
Last year, Haddassah won the race, giving his owners, Al and Bill Ulwelling, their first Prince of Wales victory. Next week, Ironstone will be looking to follow in his hoofprints and give his owners, Tequesta Racing Inc. and Jupiter Leasing Co., their first Prince of Wales win.
Tequesta Racing is represented by Adrian Meli, while Meli's mom, Helen Bruno represents Jupiter Leasing. Like Armata, Meli was pleased with Ironstone's performance in the Queen's Plate.
"It was good. Considering everybody had doubts on him because of the distance. He's a horse that gives 110 percent and when he knows he's running he's going to work his hardest. You don't have to worry about him, he's going to give you all he's got, if he wins or loses - he's going to try," said Meli.
The Prince of Wales will be Ironstone's eleventh career start. Last fall, the colt visited Woodbine's winner's circle on two separate occasions. In August 2021, Ironstone broke his maiden in the Simcoe Stakes, going six and a half furlongs. A couple months later, he romped home victorious in the Clarendon Stakes (5 ½ furlongs). Since then, the colt has stretched out in distance and posted runner finishes in several stakes including the 2021 Gr.3 Grey Stakes (1-1/16 miles). A month prior to running in the Queen's Plate, Ironstone ran third in the Gr.3 Marine Stakes ( 1-1/16 miles).
Ironstone shipped from Woodbine to Fort Erie earlier this week in preparation for Tuesday's race.
Meli believes the slightly shorter distance and the surface change in the POW will suit Ironstone.
"Anything shorter is going to benefit him. He trains probably just as good or maybe better on the dirt than he does on the tapeta. So we are really interested to see how that plays out. I still don't think he's even touched his best surface yet, which is the turf. We know he is going to run a good race again. We are just excited he is there, he's healthy, and he is ready to go."
On Tuesday afternoon, Ironstone will break from post position two from the field of seven. The Mr Speaker colt will face off against some familiar faces, including Mark Casse's trainee, Sir for Sure, who will be looking to improve upon his third-place Plate finish. Other contenders coming off Plate runs include Duke of Love, trained by Josie Carroll, and Hunt Master, conditioned by Angus Buntain.
There are also some new faces entered into the second jewel of the CTC. Casse has supplemented and entered Fast Feet, while trainer Mike Dunslow hopes Ice Road can freeze out the competition. Additionally, Fort Erie-based trainer Ravendra Raghunath is counting on Collaborative to pull off the win while breaking his maiden in the stakes race.
First race post time is 1:05 p.m. on Tuesday, Sept. 13. The Prince of Wales is set to run approximately 5:40 p.m. The broadcast will be available on TSN from 5-6 p.m.
Story by Hayley Morrison, for Fort Erie Race Track
Photo: Ironstone with exercise rider Anthony Micallef. Fort Erie Photo