Hunt for the Triple Crown continues at Prince of Wales Stakes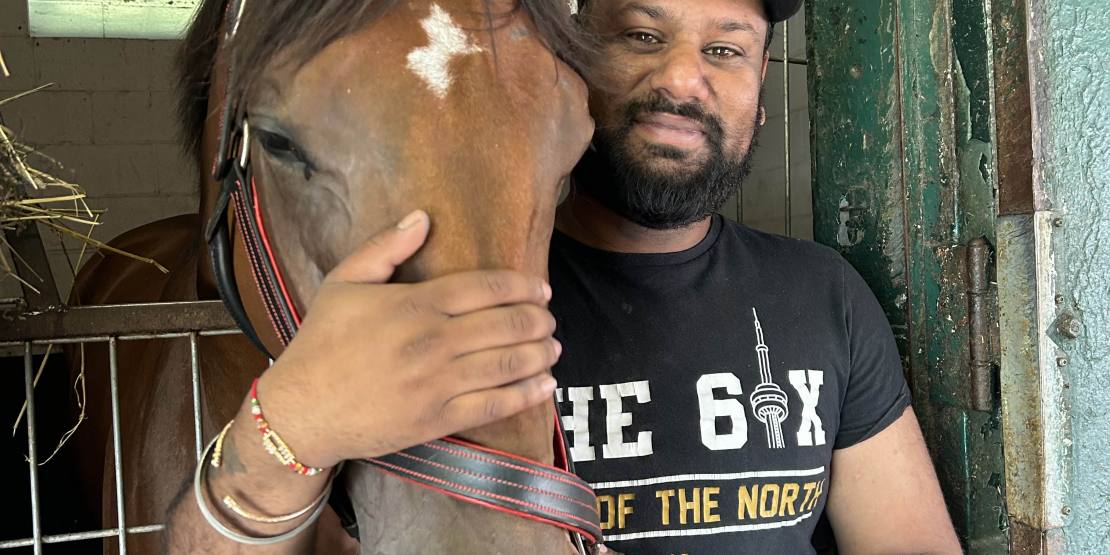 By Hayley Morrison
Paramount Prince secured this year's King's Plate, the first jewel in the OLG Canadian Triple Crown (CTC) series, and by all vantage points, is the one to beat in next week's Prince of Wales Stakes. But is there a potential upset in the making?

As we get closer to the 88th running of the Prince of Wales, the second jewel of the CTC, let's take a look at the race itself and then turn our attention to the field of three-year-old contenders hoping to dethrone the prince.

The second jewel will be contested over Fort Erie's dirt course, going one mile and three-sixteenths, a slightly shorter distance than the King's Plate. The Prince of Wales will also be run on a dirt surface, not synthetic (tapeta) like the first leg of the CTC series. Thirdly, the race is contested at the 126-year-old Fort Erie Race Track. Therefore, there's a trifecta of changes at play - from distance, surface, and location that must be considered when analyzing this year's field of contenders.

Eleven horses were nominated to the $400,000 Prince of Wales stakes race. Here's a rundown of this year's contenders.

Paramount Prince won the Plate Trial stakes on Jul. 23 and the King's Plate stakes on Aug. 20 in dominant fashion with Patrick Husbands aboard. The son of Society's Chairman posted his final work on Sept. 3 going four furlongs in 49.20 over Woodbine's (WO) dirt training track. The chestnut gelding is owned by Mike Langlois and Gary Barber and trained by Mark Casse. His breeder is Ericka Nadine Rusnak.

Always humble, Rusnak remains optimistic about Paramount Prince's chances.
"I would never say I'm confident. I believe that he is certainly capable of doing it. But I don't want to jinx anything; I'm a little superstitious. So, I'm just going in there with a hardy sense of optimism," said Rusnak, who has been cheering him on from day one.

Stanley House, who finished third behind runner-up Elysian Field in the King's Plate, posted his final work over WO's dirt training track on Sept. 5, under the watchful eye of trainer Mike De Paulo. Stanley House's owners, John and Diana Russell were also on hand to catch their horse prep for the race. Although Stanley House did not secure the crown in the first leg, the Russell's were ecstatic about running in the historic Canadian classic race and continuing into the next leg.

"It was very exhilarating - to have a small stable like ours and have a horse that runs third in the King's Plate is pretty exciting stuff. Those opportunities are few and far between for an operation like ours. We were ecstatic to be in that position for such a small operation," said John Russell, who has been in the racing game since the 80s.

Despite a departure for over a decade, Russell returned to the industry with the assistance of trainer De Paulo.

"Mike was instrumental in getting us back. He was very gracious. I met him back in the 90s, and to his credit, he stayed in touch. We finally connected, and we've been buying horses since 2009. Mostly just one or two a year. We have claimed a few," said Russell. Russell achieved stakes-winning status with horses such as Eighty Nine Red, who won the 2014 Achievement Stakes at Woodbine for his connections.

De Paulo feels confident in Stanley House's chances, noting that his breeding would suggest Fort Erie's dirt course is potentially his preferred surface.

"He is bred to be a dirt horse; he has never run on it, but his sire, Army Mule, was only dirt. I think he ran three times and was undefeated. His mare (Stormy's Song) is by Unbridled's Song who was a dirt horse so we are looking forward to running him on the dirt. It's a little shorter. We are going to put a set of blinkers on him, I think. A new addition. Actually, both horses are going to wear blinkers," said De Paulo, who also trains Cool Kiss heading into the Prince of Wales stakes.

Stanley House's stablemate, Cool Kiss, finished seventh within the hefty field of 17 horses in the King's Plate. He is one of two contenders that have prior experience on the dirt, running second in a seven furlong allowance race down at Gulfstream Park on Jan. 29. Cool Kiss is owned by Newtop Stables, John Russell, and Joseph De Paulo. De Paulo trained Cool Kiss' dam, Hot Kiss, and has fond memories of her.

"Hot Kiss was a maniac. We used to have to stop everybody - she used to run onto the (training) track and go. If you could have ever trained her, she would have been a way better horse, but she trained herself," said De Paulo. First impressions suggest Cool Kiss has not inherited the 'hot' nature of his dam and acted a true professional in his final work on Sept. 5, going four furlongs in 48.20 over WO's dirt training track.

Stanley House will be ridden by Rafael Hernandez, while Jose Campos will guide Cool Kiss in the Prince of Wales stakes.

Twin City, trained by Stu Simon, will also be looking for some racing glory on Prince of Wales Day. The son of Klimt finished eighth in the King's Plate behind Cool Kiss. Simon is excited about the horse's prospects, echoing a sentiment similar to De Paulo regarding family lineage.

"He is actually bred both top and bottom for dirt. His breeding screams dirt a lot more than it screams turf. He took the Plate well and that's why we want to try him on the dirt. Run him there, and then he will have a freshen-up after that. But we will see what happens after that - We are pretty curious about the dirt aspect," said Simon. Twin City worked four furlongs in 47.80 on WO's dirt training track on Sept. 3. He will be ridden by Gary Boulanger.

Meanwhile, trainer Ted Holder shipped Kaukokaipuu down to Fort Erie, not once, but twice to train across the dirt track in preparation for the Prince of Wales. The grey son of Mr Speaker finished fifteenth in the Plate, and despite the head-scratching performance, Holder remains confident in his horse.

"I've never lost confidence in the horse. The King's Plate was a bit pondering. I've been over that race a million times in my head and watched it lots and I've concluded that I've just got to throw it out," said Holder, who also believes drawing the 15th post position in the race was not beneficial for his trainee.

Asked about training up to the Prince of Wales, Holder is extremely candid about the process thus far.

"We haven't missed a beat. We unfortunately got outdistanced so we ended up on the AGCO's outdistanced vet's list. So, I worked with him, a very slow maintenance work for him to get him off the list. We went over him with the vets to make sure everything was in order and we got the green light, so we are proceeding," said Holder, who worked the horse again on Sept. 5, going four furlongs in 46.20. Rico Walcott has retained the mount.

Meanwhile, Morstachy's who finished fourteenth in the King's Plate will be looking to provide trainer Renico Lafond with his first Canadian classic stakes win.

Lafond knows a thing or two about upsets.

On Aug. 19, a day before the King's Plate, he trained 36-1 longshot Canadiansweetheart to an impressive win in the $125,000 Sweet Briar Too stakes at Woodbine. Back on May 5, the three-year-old filly had been claimed by Lafond for owner Chris Manohar for $25,000.

Two months later, he claimed Morstachy's for $40,000 for Manohar. The three-year-old gelding was previously owned by Al and Bill Ulwelling and trained by Kevin Attard, the same owner-trainer duo who secured the 2021 Prince of Wales with Haddassah.

The first leg of the CTC did not go according to plan for Lafond, who tried to learn the ins and outs of the gelding heading into the race.

"I claimed him, and he was doing well. I wanted to add blinkers to him because I could see he looked around a lot. I could see that he was not attentive. (Blinkers) did help him a lot. The only thing that I caught very late and it was too late, is that he has bad nerves. I don't normally school horses, but for some reason, two days before the Plate, I decided to school him. When I schooled him, I was like, 'oh no, this is not good.' Obviously, on Plate day, he washed out, and he basically ran his race before the race was run. When I watched the race, I knew he was done, but he still tried. That is very rare to see. A horse that is washed out like that for him to be completely flat and still run in a high caliber race," said Lafond.

Lafond has been training horses for the last 12 years and remains keenly aware that each racehorse is an individual with a different set of needs as well as quirks. As it relates to Morstachy's training regime, Lafond has switched it up, taking him to the field (Baker's Acres) and walking home using different routes on the backstretch. Morstachy's posted his final work on Sept. 2, going 5 furlongs in 1:01.20 on WO's dirt training track.

Lafond believes the chill atmosphere of the Fort may be conducive to getting more out of his horse. "Most horses that I've ever dealt with are usually much better in Fort Erie; they have a better mindset," said Lafond, who is also happy about running him on the dirt rather than the synthetic surface.

"I'm confident with him on the dirt. He loves the dirt," said Lafond. Jockey Leo Salles has retained the mount and will be looking for his first Prince of Wales victory. The Barbadian trainer intended to ship Morstachy's to the Fort earlier this week to school in the paddock, but given the heatwave, opted not to. The commute from Woodbine to Fort Erie (horse transport wise) is about two hours. Every contender in the Prince of Wales will (or has) shipped from Woodbine to Fort Erie to run in next week's race.

Morstachy's owner, Manohar, has been in the racing game for the last year. He had a brief stint in the game in his 20s but returned to racing with the help of Lafond. He is excited to see his horse run next Tuesday afternoon.

"We feel great. He really likes the dirt. He was running at Gulfstream on the dirt. We had an eye on Morstachy's since last year, we really liked him and we had the opportunity to get him. He really likes the dirt, and if we get a nice position and things go our way, if we can come in the top three, top four, we will be happy with it. If we win, even better. We are not out there saying we are going to win or be dominant. We are just taking it day by day. Hopefully, Morstachy's gives us everything he's got," said Manohar.

Some of the new faces in the field will include Stayhonor Goodside, trained by Mark Casse. The son of Honor Code finished second on Jul. 23, going one mile and one-sixteenths on Woodbine's tapeta course. Jockey Emma-Jayne Wilson has the call to ride Stayhonor Goodside.

Meanwhile, trainer Norman McKnight will try his luck with his recent claim, Armaline. McKnight claimed the lightly-raced gelding from the barn of Kevin Attard on Aug. 13, after he broke his maiden going one mile and one-sixteenths on Woodbine's inner turf course. Armaline will be ridden by jockey Luis Contreras.

Velocitor, trained by Kevin Attard, finished fourth in the Plate and worked (four furlongs in 50) on Sept. 5 at the Fort in preparation for next week's race. Jockey Justin Stein will be back in the saddle looking to secure back-to-back Prince of Wales' victories. Attard will also send out Tiburon, who ran seventh in the Plate Trial stakes on Jul. 23 at Woodbine. The son of Good Magic will be piloted by Sahin Civaci.

Hall of Fame trainer Josie Carroll secured last year's Prince of Wales stakes with Duke of Love and jockey Justin Stein. Carroll will possibly send out Ottawa to engage and dethrone Paramount Prince. At the time of print, it was not confirmed whether Ottawa will make the journey to the Fort. If he does, Woodbine's leading rider, Kazushi Kimura will be aboard. The lightly raced son of Violence finished second in a maiden special weight race on Jul. 30 going a mile and one sixteenths at Woodbine. Touch'n Ride won that race and finished fifth in the Plate. His connections have opted to skip the Prince of Wales stakes.

Trainer Mike Dunslow has stated that Trinity Park could be supplemented to the race. Since the horse was not nominated for the race, the owner, in this case, Bruno Schickedanz is required to pay a non-refundable $12,500 fee at the time of final entry. Trinity Park finished fourth on Aug. 19 going one mile and one-sixteenths on WO's tapeta course. On Sept. 5, the son of Giant Gizmo worked five furlongs in 1:00.60 over WO's dirt training track. (Jockey has yet to be determined).

The Prince of Wales post-position draw will take place on Thursday, Sept. 7. The Prince of Wales stakes will be the feature race on Tuesday's card at the Fort on Sept. 12.