FORT ERIE RACE TRACK ANNOUNCES PLAN TO REOPEN TO SPECTATORS
FORT ERIE, June 29, 2021 – The Fort Erie Live Racing Consortium announced today that a limited number of spectators will be allowed to return to the border oval beginning July 12. In response to the province's announcement that horse racing facilities can now reopen to spectators with a limited capacity, Fort Erie Race Track will gradually welcome back fans within the next few weeks.
"We are overjoyed to have spectators returning to the track," said Drew Cady, the general manager of FELRC. "Of course, we remain extremely cautious about reopening our doors to spectators as the safety of all our horse people and staff remains the top priority."
The border oval's racing season began on June 15 and the track will continue to offer live racing Monday and Tuesday afternoons until the end of October.
On July 5, the track will allow AGCO licensees to register online to attend upcoming racing days.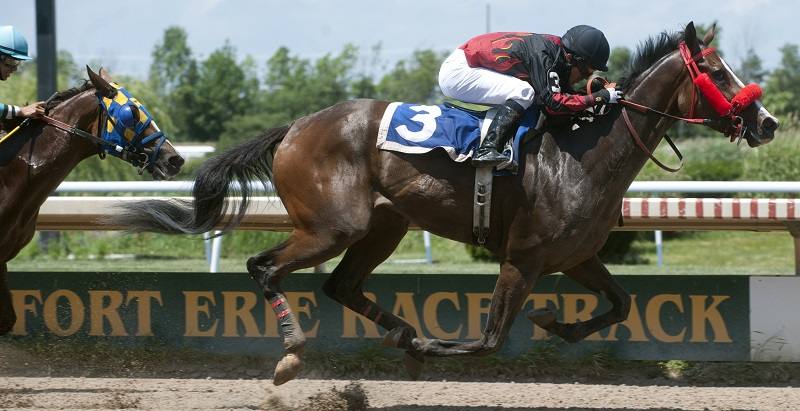 "Starting next week, we will allow people holding an AGCO license to have access to the track," said Cady. "The horse owners – all the people who've continually footed the bill for their horses over the last several months can finally be trackside to see their horses run."
On Monday, July 12 Fort Erie Race Track will be open to a limited number of spectators. Each spectator must reserve a spot online through forterieracing.com.
Spectators will not be permitted on the property if they have not pre-registered online. Please note, upon arrival at the track, everyone's temperature will be taken as part of the screening process to gain entry to the track. While visiting the track, wearing a mask is mandatory and must be worn at all times.
Covid-19 protocols remain in effect and will be monitored. Indoor areas of the track such as the Racebook and indoor dining areas remain closed. Spectators onsite will have access to washrooms and two outdoor BBQ food services; trackside at the Tikki Bar and as well as the Paddock Shack across from the paddock area.
Further details on the registration process will be available later this week on our website. www.forterieracing.com
Photo: Smokehouse and jockey Omar Moreno heading to the wire. Michael Burns Photography.

-30-